3 Comments
Tall Poppy Interview: Shout Out Out Out Out

Photo credit: Victor Tavares.
Toronto is the white heterosexual male of concert audiences: we rarely dance unless very intoxicated, and the movements are awkward and self-conscious at best. Auditory satisfaction is usually conveyed by a bounce of the head, or an occasional thrust of a fist towards the stage.
Despite our legendary history of aloofness, Shout Out Out Out Out made Toronto dance their asses off earlier this month at a sold-out gig at the Horseshoe. These Edmonton natives combine two drummers, four bass players, five synthesizers, two vocoders and a shit-load of energy to create a highly infectious hybrid of rock and electronica. With a few well-plugged shows in NYC and CBC Radio 3 pimping their singles, the word on the street is that this band is the next big thing in Canadian indie music.

It's always a disappointment when a over-hyped band can't deliver a good live performance to match their shiny studio album (anyone remember Clap Your Hands Say Yeah?).
Imagine a packed venue throbbing with bass: the lights are flashing, everyone is your new best friend and you're being serenaded by a robot. Awesome. Playing songs with titles like "Your Shitty Record Won't Mix Itself" and "Chicken Soup for the Fuck You," the band creates fierce beats and unmatchable stage energy. We don't know whether to call Shout Out Out Out Out's live act the best concert or the best dance party you've ever been to, but's the type of experience that inspires instant loyalty and a growing fan base.

We spoke to frontman Nik Kozub about the group's roots in the tightly-knit Edmonton music scene, where everyone knows each other and bands mix incestuously (fellow Shout Out Out Out Out members Lyle Bell and Gravy also form power rock duo Whitey Houston and Nik is the bassist in Veal, now semi-defunct).
"When I was younger and coming up in the music scene there was a huge scene for all-ages shows," Nik explains. "Everybody I know from those days are now involved in the actual music industry, either running a label or playing in a band. All of us around the same time got old enough and had enough life experience to actually make a go of it, and we're still figuring it out, you know?"
Sporting a 780 tattoo (Edmonton's area code) on his inner bicep, Nik is a big wig in his hometown, musically speaking. He began playing punk shows when he was twelve and has since been involved with an abundant number of bands in the area. More recently, Nik co-founded a label, Normals Welcome Records (aka. nrmls wlcm), with bandmate Jason Troock. "In Edmonton, were kind of in the middle of nowhere and we have to figure out a lot of things ourselves," he says. "With my band and label, we have a bit of a Toronto connection, so I was exposed to that more established part of the industry and I think having that kind of knowledge kind of helped."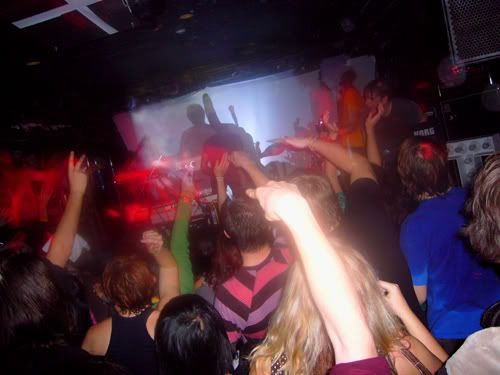 Photo credit: Karen Whaley
The band's popularity has flourished in the last year, despite their distance from major Canadian music centres. Don Pennington is one of their most important fans. He's a producer for CBC Radio 3 and one of the minds behind the station's podcast, which is the ultimate source for discovering raw Canadian musical talent.
Radio 3's support has been integral in promoting Shout Out Out Out Out, showcasing their music on the air and hosting a free show in Edmonton last spring as part of the station's Tour Tournée concert series with Bandeapart.fm. But what makes Radio 3 show a particular band so much love?
"It's buzz," says Don. "What people are doing in their communities starts to leak out virally, through bands and other networks running in and out of the whole artistic community – they're linked across the country. Musical styles are really important to us, of course. Somebody like Shout Out Out Out Out, they're coming from the electro dance end of the spectrum, which certainly appeals to us, but there's also a deep rock tradition there."
Anyone with their finger on the pulse of the indie music scene cannot deny that there has recently been a shift towards bands with a dance-floor vibe rather than the whole post-punk explosion prevalent earlier in the decade. Is Shout Out Out Out Out creating tomorrow's popular sound? Don is skeptical about a single trajectory music revolution.
"I don't know about direction, I just really celebrate the diversity that seems to be alive and well in the Canadian music scene. There is no end to where people's interests can be focused. With a band like Shout Out Out Out Out, they really amalgamate things like two drummers and 4 bass players with all the synths…it's as rockin' as it is dancin'. It's not about being serious about the music."
"They're serious about playing it," he clarifies, "it's obvious that they're all really good at what they do, but the complete underscoring of the whole thing is entertainment. It's not a bunch of posers up there on stage firing out things they built on a computer somewhere, it's real living music and the band is just truly having a lot of fun."
And so are we. These E-ville boys combine small town charm with big city talent to create volatile dance music that not even a Torontonian can resist.


Video credit: Karen Whaley
Photo thumbnail courtesy of photosapience on Flickr.
---